For as long as I could remember, I was always fond of playing with the corners of my pillow. Those days, my pillow was a cotton-filled one, lovingly made by my mum. I would isolate a bunch of cotton at the pillow corner with my fingers and then dig into it with my index finger. It helped me sleep. Those days I went through a few pillows a year as the corners gave way to the constant abuse.
And then I got married.
My wife didn't like my habit and went about weaning me off it. She got me a pillow without corners! It was hard in the beginning but I've more or less got over the habit (unless I chance upon another cotton-stuffed pillow again, heh heh….!). But I digress.
And then our second child, Ryan, was born.
Ryan took to the pillow corner much like a fish to water. He would suck the pillow corner and smell it when it's dry. (I know, I know…it's pretty gross). While we have managed to weaned him of sucking the corner, we couldn't get him of smelling it. Maybe in time he will.
And then, a couple of months ago, we got a dog. His name is Cleffy (we call him that because he was born with a cleft lip and we didn't think he would thrive but he did!).
Guess what Cleffy is into?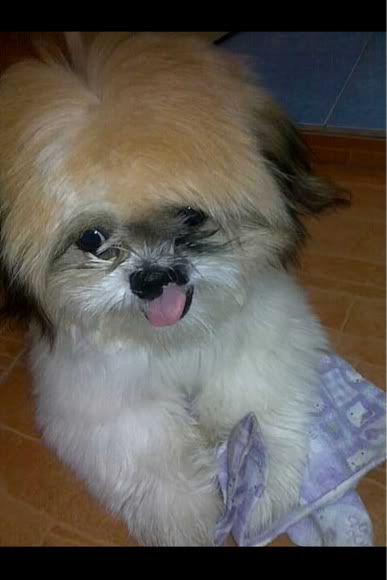 Yup, Cleffy loves pillow corners too!
I guess somethings run in the family ~ like good looks, intelligence, wit…and pillow corners. Heh heh!