Ryan's (my 7-year-old-kid) command of the Malay language has improved by leaps and bounds ever since we started sending him for Malay language tuition. The playtime with the 6-year-old Malay neighbour also helped a bit.
However, it's still very evident that his Malay still needs quite a bit of work.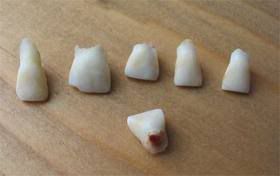 For instance, the other day, Ryan's upper incisor, which has been hanging precariously loosely for days (Ryan's at an age where his milk teeth are falling faster than you can say 'Oral B'), so much so that I fear he may choke on the tooth when he sleeps or when he accidentally swallows it, finally came loose while he was in school.
According to him, he was in the toilet and he managed to rush to the sink when the tooth came out and he said, "luckily, the tooth fell on the floor instead of into the sink hole!".
Luckily…because he knows that he can exchange the tooth for some cold hard cash when the tooth fairy comes a calling at night. (The going rate for an incisor is RM 5 per piece).
Naturally, when he got back to the classroom, the teacher was most horrified to see the front of his white shirt covered with blood!
When asked what happened by the teacher, Ryan with his now much-improved Malay answered:
"Gigi saya sudah mati!" (translated: My tooth died!)
LOL!!!!!
Sigh….it will be a long time before he speaks credible Malay! But, at least he spoke and that's good.
Mon, 310510 @ 0700