Jimbo joined a few fellow ID physicians to go souvenir hunting one afternoon during the AIDS conference in Bali last week. They took a 1.5 hours trip to Sukawati Art Market where one could get pretty decent quality souvenirs for a fraction of the price sold elsewhere on the island.
Before that they were taken to a batik factory and shop where they gazed upon rather scandalous batik printings like this one: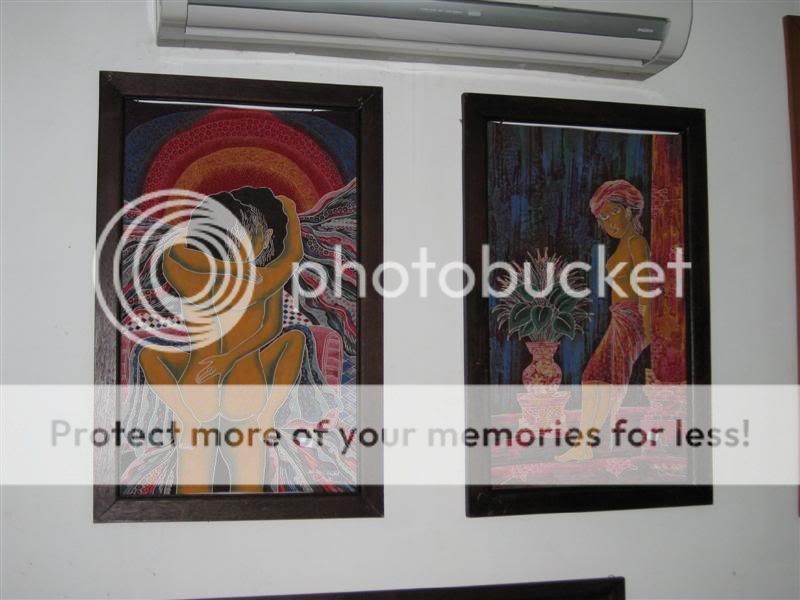 Unfortunately, it was too bulky and pricey to buy and bring home.
At the Sukawati Art Market, you can get almost anything under the sun. Here was where Jimbo got most of his souvenirs, now prominently displayed in his cupboard.
One of his fellow colleague, on hearing that Jimbo actually bought 2 'wooden thingy' wanted to get one for herself! Here was how the conversation went:
She: I want to get one of these la (pointing to a wooden thingy)
Jimbo: Get la! I already got 2 of them, one was a freebie!
She: Really ah? I am scared the custom won't let me pass!
Jimbo: Malaysian custom ah, hardly ever check anyone's bag. Just walk in the Green Lane la. The people from PT Foundation even use it to demonstrate how to put on a condom!
She: Sure ah. I think I will get one.
She: Which one should I get ah? (pointing to the wooden thingys which comes in all shapes, sizes and colors)
Jimbo: Ugh…it all depends on what is your taste la! LOL!
She: I think I will get the nicest color one and pass it to the pharma rep to carry home for me!
LOL!!!
Fri, 210809 @ 0700