Today, Jimbo et al will be making the descend back to civilization!
We will be taking the Timpohon Trail back to Park HQ, a journey that will take about 5 – 6 hours.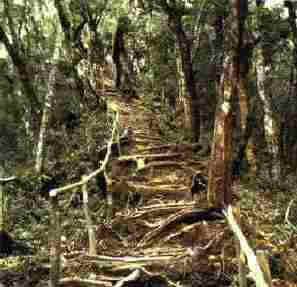 The Timpohon Gate is our destination.
Today's itinerary include:
0800 ~ wash/pack stuff/breakfast
0930 – 1430 ~ descend to Timpohon Gate and transport to Park HQ
1430 – 1515 ~ wash/light lunch outside Park HQ
1545 ~ depart for KK town
1730 ~ celebration dinner at Gaya Seafood in Inanam
1930 ~ check in at hotel
Today, Jimbo shall be joined by Mrs Jimbo who would have flown in this morning. It's our little 10th wedding anniversary gift to ourselves!
Over the next 2 days, Mr and Mrs Jimbo shall be scaling the various shopping malls in KK.
Sat, 050708 @ 0700