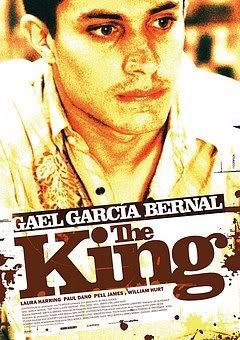 I managed to watch this show (finally, after 5 sittings over 3 months) last week while at Batu Pahat. The hotel which I stayed in had no entertaiment or a health club and the TV only has TV1,2,3,7 and 8 (all boring stuff); so I watched this movie from where I last left off.
I have a liking for indie films and I picked this one from the pasar malam a few months ago. Basically the plot is simple: A sailor (latino played by Gael Garcia Bernal) was discharged from the Navy and he went to look for his long lost dad who has now become an influential preacher in a small town. The latter fathered the sailor on one of those ONS while he was wild, young and free. The preacher has, by now, married respectably and was a father to a teenage boy and girl.
The sailor found his dad, was promptly rejected and he went and fell in love with the preacher's 16 year old daughter (who is his stepsister btw), got her pregnant, her brother found out about the affair and confronted the sailor and was murdered by the latter in the process.
Thinking that their son has rebelled against the strict religious rule at home and ran away, the preacher and his wife went through a time of grief. The preacher then decided to come clean and acknowledge his illegitimate child (the sailor) by asking him to live with the family not knowing the clandestine relationship that his daughter and the sailor continued to blossom right under his roof! Meanwhile the sailor has also told the daughter that he has killed her brother, but only out of self defence and fear that their secrets might be made known.
One Sunday, the preacher went up to the pulpit and publicly ackowledged his illegitimate son to the congregation and begged for their forgiveness (quite a few stood up and left the church in disgust). The rest of the congregation applauded him and stood by him. The daughter was strickened with horror as it dawned on her that she has been sleeping with her stepbrother AND carrying his child!!!
Unable to bear the horror of it all, she spilled the beans to her mum, resulting in them both being killed by the sailor in order to silence them. The story ended with him going back to his dad (the preacher) and telling him that he wished to come clean as well.
Frankly I don't know what to make of the movie. I fail to understand how the latino sailor would sleep with his own stepsister knowingly and got her pregnant some more. The movie seemed directionless and there was no satisfactory conclusion.
My verdict will have to be 3/10.
I did enjoy another movie in which Gael acted (The Motorcycle Diaries). That movie was superb. This one was not.
I have been told that Gael is the South American version of Brad Pitt. I beg to differ. Brad Pitt is much taller, more muscular and definitely do not have so much axillary hair!!!
Incidentally, Brad Pitt and Gael are acting together in the movie 'Babel' which I have yet to watch.
Tues, 160107 @ 1157; on leave but still at hospital to take a class. Some one said I am doing charity work. Hope this will add 'leather seats' to my heavenly BMW!